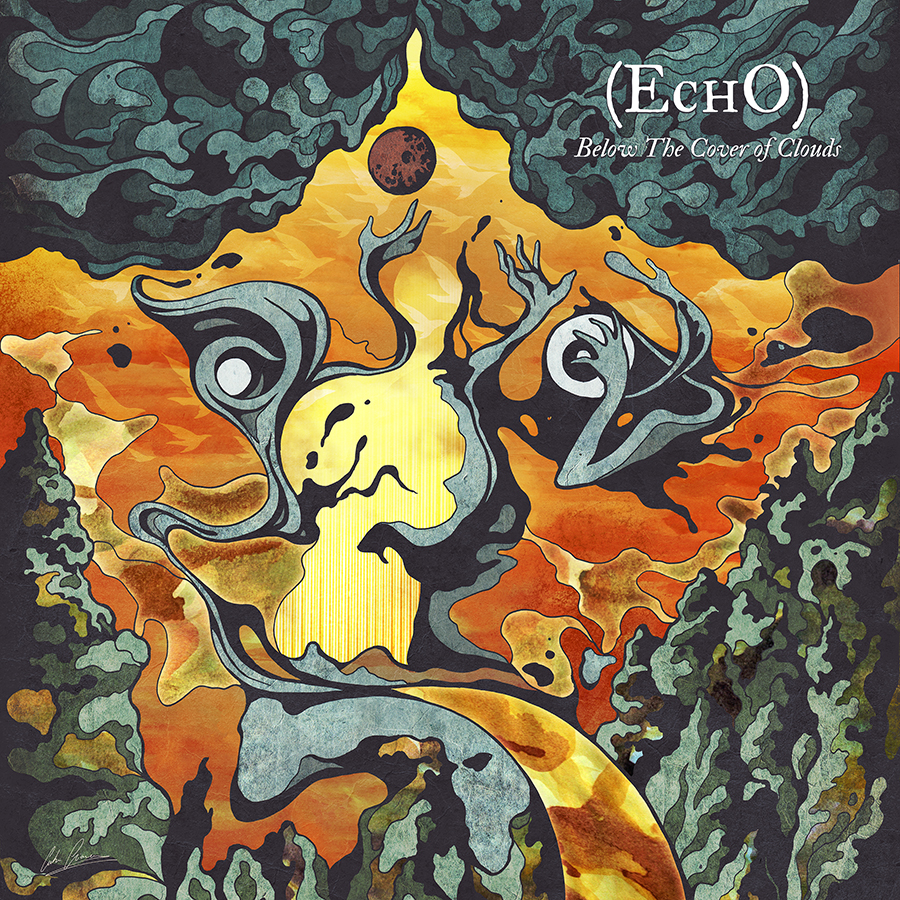 EchO è un complesso di virtuosi ed eruditi. Artisti del doom metal, ne danno la loro personale versione dal 2007. Varie sono le formazioni che si sono susseguite dall'anno della formazione, ma la qualità della loro produzione musicale resta il filo conduttore che li accompagna fino a "Below The Cover of Clouds", il loro terzo album. La copertina del disco, a cura di Costin Chioreanu, esprime visivamente ciò che il concept album degli EchO suggerisce musicalmente. Sono bresciani, ma già si sono fatti sentire e apprezzare in tanti stati europei. E a ragione.
Nessun elemento della band si sovrappone in modo violento ad un altro.I momenti salienti dell'album si scoprono fin dalla prima traccia. Il growl di Fabio Urietti tira per la gola il ritmo di "Glimpses and fear", come anche quello di "Ferryman", il sinoglo estratto. Raggiunta una velocità sostenuta, il vocalist trasforma repentinamente il registro per entrare in contrasto con la doppia cassa di Paolo Copeta. Il growl di Fabio Urietti è acutissimo. La chiusura in delay si collega al mood della strumentale "Culmine 2.18". In toccate e fuga e alternanze ai limiti delle dissonanze, gli EchO tengono insieme tutte le tracce di "Below The Cover of Clouds".
Come in tutti i buoni lavori, la parola d'ordine di "Below The Cover of Clouds" è equilibrio
Attraverso contrasti sonori che corrispondono a quelli cromatici dell'artwork, gli EchO danno luce a ciò che si nasconde sotto le nuvole. Una Terra stracolma di orrori. Dopo il tripudio in apertura di distorsioni in "Blind Snow", le percussioni si fanno tribali, per sfociare nel gotico lasciando l'elettronica della tastiera a duettare con il vocalist. Il ritorno del growl l'incedere torna ad essere epico, dileguando ogni traccia di psichedelia.
Ma il miracolo compositivo l'hanno realizzato con "My Burden". Calibrature sonore creano squilibri nel corpo, rendendo ragione al nome che si sono scelti: EchO, che rimbomba da un orecchio all'altro per poi riempire tutto ciò che c'è in mezzo. Dal punto di vista della registrazione crea squilibri fisici nei primi secondi. Un concept album in cui doom metal e psichedelia convivono nella lotta. Un album che si apprezza ascolto dopo ascolto, scoprendo anfratti di virtuosismi che, da musicisti d'esperienza, esibiscono senza sforzo.