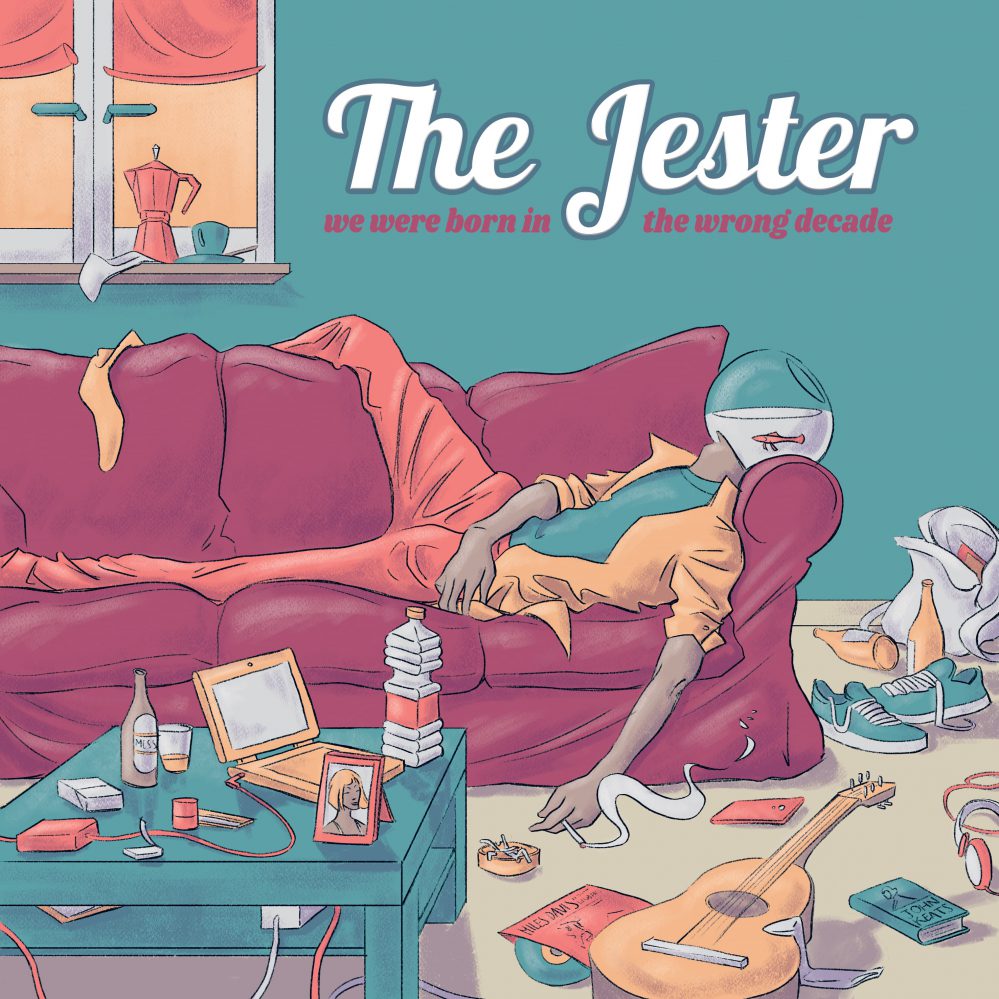 Quattro è un numero standard per una rock band. Né troppi, né troppo pochi. I The Jester sono millenial fino in fondo, dall'età anagrafica alle scelte stilistiche. Millenial che non si arrendono alle scelte stilistiche musicali che investono la maggior parte delle produzioni dopo i '00. Dunque con "We Were Born in the Wrong Decade" si propongono di narrare tutto il disagio di cui la società ci nutre.
Il pesce rosso nell'ampolla è sintomatico: invece di guizzare felice in un corso d'acqua, il goldenfish ruota nevroticamente su se stesso mentre intorno regna il caos. La boccia in cui è recluso è anche un luogo privilegiato in cui si spegne ogni potenza e quindi anche ogni responsabilità. Un punto prospettico da cui i The Jester, i giullari, irridono e compiangono la desolazione caotica dell'esistenza.
Con "We Were Born in the Wrong Decade" i The Jester musicano il crepuscolarismo tra i due millenni
"We Were Born in the Wrong Decade" è il primo full lenght album del quartetto siciliano. È stato preceduto da un EP, la cui tracktitle "Quench" ritorna in una veste sonora trasfigurata dalla produzione. Da un intro raggae i The Jester elaborano ponti armonici che li fanno transitare al rock attraverso il funk, giocando sulla metrica. Abbandonano totalmente l'italiano per ristrutturare la decadenza del pop-rock degli anni '90/'00.
La restaurano con importanti groove al basso ed equilibrate distorsioni alla chitarra. La dolcezza del canto di Sanny Tripoli fa svanire ogni punta di aggressività, salvo trapassare ogni cellula del corpo, subdula come le radiazioni. Chissà se anche gli adolescenti di oggi sentono quel bisogno inestinguibile di farsi cullare da melodie cantilenanti che sfiorano il rischio della nenia vera e propria. "Stuck" è proprio di quel genere.
I The Jester irridono e compiangono l'incomponibile caos dell'esistenza
"Full of light", invece, è un'esplosione di funk e groove di blues. "Right cards" è una calda ballata rock mentre con "Pianoforte" i The Jester coltivano malinconia. Salvo poi molleggiare sulle ginocchia con "Dance long" e librarsi nella psichedelia analogica di "Blues Blur". A tratti oasisiani, i The Jester sono chiaramente cresciuti a pane e brit rock.
Sanno di crepuscolarismo tra la fine di un millennio e l'inizio di un altro, di spiaggia e di pioggia. "The Fresh Girl" e "The Ballad of Indolence" sono rigeneranti come i temporali estivi in autunno. Non mentono i The Jester, sono tanto sinceri quanto autentici. Riescono a comporre in musica il senso di straniamento dei millenial, non elevandosi a giudici. Mettono in atto un doppio coinvolgimento: interpretandolo in quanto artisti, e portandone lo stendardo come fossero manifestanti.