Esce oggi a sorpresa "Living In A Ghost Town", il nuovo brano dei The Rolling Stones che arriva dopo otto anni dall'ultima uscita discografica. Sebbene, ascoltando il testo, sembrerebbe essere scritta appositamente per la situazione di lockdown che stiamo vivendo, la canzone risale all'anno scorso. A comunicarlo sono stati  gli stessi membri della band capitanata da Mick Jagger in vari post sui social.
«Life was so beautiful / Then we all got locked down / Feel like a ghost / Living In A Ghost Town»
Il brano avrebbe dovuto far parte di un futuro album, ma la pandemia ha cambiato un po' i piani di tutti. I The Rolling Stones hanno dunque deciso di prendere quel brano e pubblicarlo. «La vita era così bella / Poi siamo stati tutti rinchiusi / Mi sento come un fantasma / Che vive in una città fantasma». Quasi profetica, non c'è che dire.
Il post sui social dei The Rolling Stones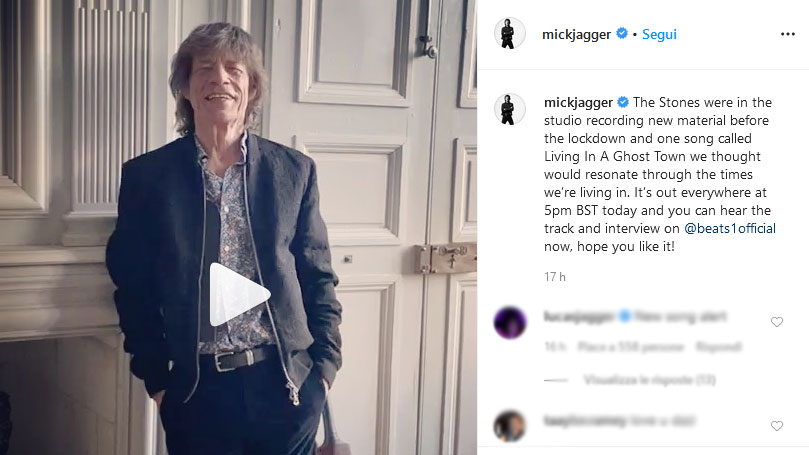 «Gli Stones erano in studio a registrare del nuovo materiale prima del lockdown, e abbiamo pensato che la canzone chiamata "Living In A Ghost Town" potesse risuonare attraverso i tempi che stiamo vivendo. (…) Speriamo vi piaccia!»
La traccia, alla quale è legato anche un videoclip, è stata lavorata in isolamento. Anche gli altri membri della band hanno rilasciato alcune dichiarazioni riguardo questa nuova "Living In A Ghost Town". Keith Richards ha detto:
«Più di un anno fa, a Los Angeles, avevamo pensato di tenere questo brano per un nuovo album. Poi è scoppiato il casino e insieme a Mick abbiamo deciso che questa canzone doveva essere lavorata adesso. E così, eccola qui»
Il supporto dei fan è sempre fondamentale, e infatti Ronnie Wood ha commentato dicendo: «Grazie mille per tutti i messaggi di queste ultime settimane, per noi è importante che vi piaccia la musica. Abbiamo un brano nuovo di zecca per voi, speriamo vi piaccia. Ha una melodia struggente, si chiama "Living in A Ghost Town"». Il  batterista Charlie Watts ha sottolineato: «Mi è piaciuto lavorare su questa traccia. Penso rispecchi l'umore del momento e spero che le persone che l'ascoltano siano d'accordo». E come dargli torto.