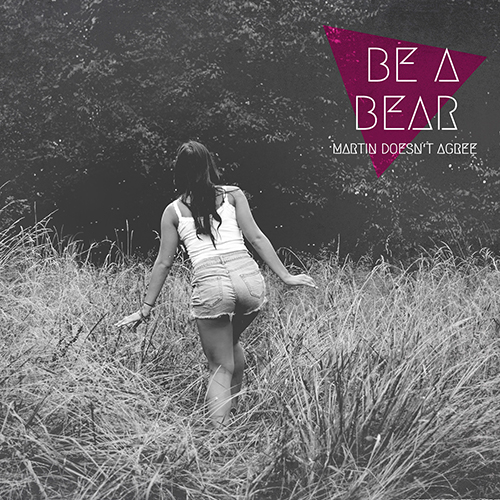 Delizioso il nuovo lavoro dell'orso nostrano Filippo Zironi, in arte Be a Bear. Avevamo avuto occasione di conoscerlo attraverso un'intervista diversi mesi fa, quando ci aveva annunciato il progetto futuro di pubblicazione di alcuni brani inediti. Ebbene, Be a Bear non ci ha presi in giro. Tre inediti e un retake sono diventati un EP, e  rappresentano una tra le piacevolissime novità di questo autunno in corso.
Uscito il 21 Ottobre per Il Piccio Records, "Martin Doesn't Agree" è quel beckettiano less is more che in otto minuti condensa freschezza elektro-pop dal gusto glam vagamente rock.
Se ho citato il mio amato autore irlandese, è per una ragione ben precisa. Occorre infatti sapere che il solo strumento utilizzato da Be a Bear nella creazione e produzione della sua musica non è altro che il suo iPhone. Ci si domanda come faccia a creare un suono tanto pulito, equilibrato e originale. Sì, perché sebbene "Martin Doesn't Agree" suoni parecchio alla MGMT, resta pur sempre creato da un apparecchio telefonico! Fluidità e agilità sono le parole chiavi per entrare nel dissenso di "Martin", l'omonima apripista del disco. Segue "Fat Trip",che tra ritmica incalzante e una decisa chitarra elettrica, cita un momento di Fantozzi e già solo per questo, l'artista bolognese meriterebbe 92 minuti di applausi!
"Martin Doesn't Agree" è una tra le piacevolissime novità di questo autunno in corso, un EP di quattro brani veloci, intensi ed quilibrati
Decisamente anni '80, il sound di "Electromoon Feeling", un titolo che da solo rende giustizia all'atmosfera ipnotica ed elettrica del pezzo. "The Great Escape" è, in chiusura, forse il pezzo più complesso. L'aria si dilata, non gareggia con il tempo pur camminando in velocità. Saranno le tastiere dolci e amare, sentimentali e lapidarie. "Martin Doesn't Agree" è in definitiva un disco che conferma il talento di Filippo Zironi, che ci aveva suggerito di essere più animali che uomini, di dar retta alla nostra parte più selvaggia, perché più bella e spontanea. Beh, sicuramente, la sua è anche la più creativa e da qui, non possiamo che compiacercene, visti i bei risultati. Bravo!