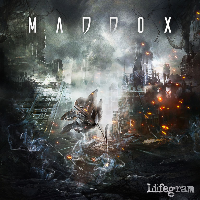 "Lifegram" è il secondo lavoro di studio dei Maddox ed il primo disco della band sotto Volcano Records. L'album segue il l'esordio "Strife" (2017): rispetto al disco precedente, "Lifegram" denota un'innegabile crescita della band ed un sound più moderno e definito. La matrice è nettamente hard rock: batteria, basso, chitarre distorte e voci graffianti sono onnipresenti nei brani di "Lifegram". Ci sono rimandi ai pilastri del genere come Ozzy Osbourne e Zakk Wylde, ma si avverte l'influenza di band più moderne come i Black Stone Cherry ed i Velvet Revolver. Completano il quadro una spolverata di complessità in stile Alter Bridge ed un pizzico della violenza groove metal dei Lamb of God.
"Lifegram" dei Maddox denota un'innegabile crescita della band ed un sound più moderno e definito
"Lifegram" dei Maddox è un album di otto tracce, in cui sicuramente non manca la coerenza stilistica. I canoni hard rock sono ben rispettati nei vari brani. Tra tutti segnaliamo i riff martellanti di "Indulgence of Life", che travolgono l'ascoltatore, e la title track "Lifegram", che dopo un intro di chitarra pulita lascia spazio ad un pezzo veloce ed inclazante. I due brani sono legati da un filo conduttore, che appare in modo evidente nei videoclip ambientati in un futuro post-apocalittico e distopico, dominato dalla tecnologia ma che segna allo stesso tempo un ritorno alla primitività. Menzioniamo anche "The Secret of Success", più lenta delle precedenti ma non meno heavy, di cui non passano inosservate le interessanti sezioni strumentali.
Nel secondo disco dei Maddox si nota la cura per i dettagli. I brani presentano strutture ben definite, con arrangiamenti che funzionano a dovere nella stragrande maggioranza dei casi. La produzione è sicuramente di stampo contemporaneo, ed il sound di "Lifegram" non si distacca molto dai dischi degli attuali esponenti di spicco del genere. L'alternanza di voci pulite e graffianti è interessante, ma di certo si può lavorare ancora meglio con la padronanza dell'inglese. In generale, "Lifegram" dei Maddox è un buon disco hard-rock, in cui tuttavia la band non ha rischiato molto. I canoni del genere sono seguiti alla lettera e non c'è molto spazio per le contaminazioni stilistiche, che forse potrebbero portare a risultati più interessanti ed inediti. Ci auguriamo che la crescita mostrata dai Maddox non termini qui!